Our branches in the North East – Newcastle and Bishop Auckland, whose area stretches down to the M62 in Yorkshire and across to Hull –  represent Doosan for their impressive range of robust, powerful and efficient machines.  As part of that range, Doosan's articulated dump trucks offer plenty of performance and power to meet the most demanding of conditions.
Below are detailed two of the most popular models, but we do have the full range in our portfolio, which comprises:
Models
Gross Power
Gross Torque
Body Volume (SAE 2:1) without tailgate
Body Volume (SAE 2:1)
with tailgate
Maximum Payload
Net Weight (SAE 2:1)
DA30-5
375 hp (276 kW) @ 2.100 RPM
1.873 Nm @ 1.300 RPM
16.8 m³
17.8 m³
28 t
21.700 kg
DA30-7
375hp (276 kW) @ 2.100 RPM
1873 Nm @ 1.300 RPM
16.8 m³
28 t
23.100 kg
DA40
500hp (368 kW) @ 2.100 RPM
2.373 Nm @ 1.300 RPM
24.4 m³
26.0 m³
40 t
30.300 kg
DA45
500hp (368 kW) @ 2.100 RPM
2.373 Nm @ 1.300 RPM
41 t
30.500kg
---
Doosan DA30-5 Articulated Dump Truck
With a payload of 28 metric tonnes, the Doosan DA30-5 articulated dump truck is designed to meet on-road as well as off-road requirements to handle a wide variety of earth-moving applications in the most challenging ground conditions.
Features include:
Comfort: spacious cab offers superior operator comfort with low noise levels and convenient modern controls.
Operate at ease: including improved monitor panel with multiple languages as standard, payload meter, rear view camera and diagnostic section.
Power: new SCR & EGR Stage IV-compliant Scania DC13 engine: 368kW (493hp) at 2,100 rpm.
Upgraded design: improved vents with extra cooling capacity for operating in hot working environments.
Front differential: directly mounted on the transmission to eliminate wear parts (drive shaft), making the Doosan ADT shorter, more compact for working in tighter areas.
Automatic limited-slip differential: push one button to engage the longitudinal differential lock.
A scissor-type tailgate is standard.
Click to read the Doosan DA30 Articulated Dump Truck Brochure.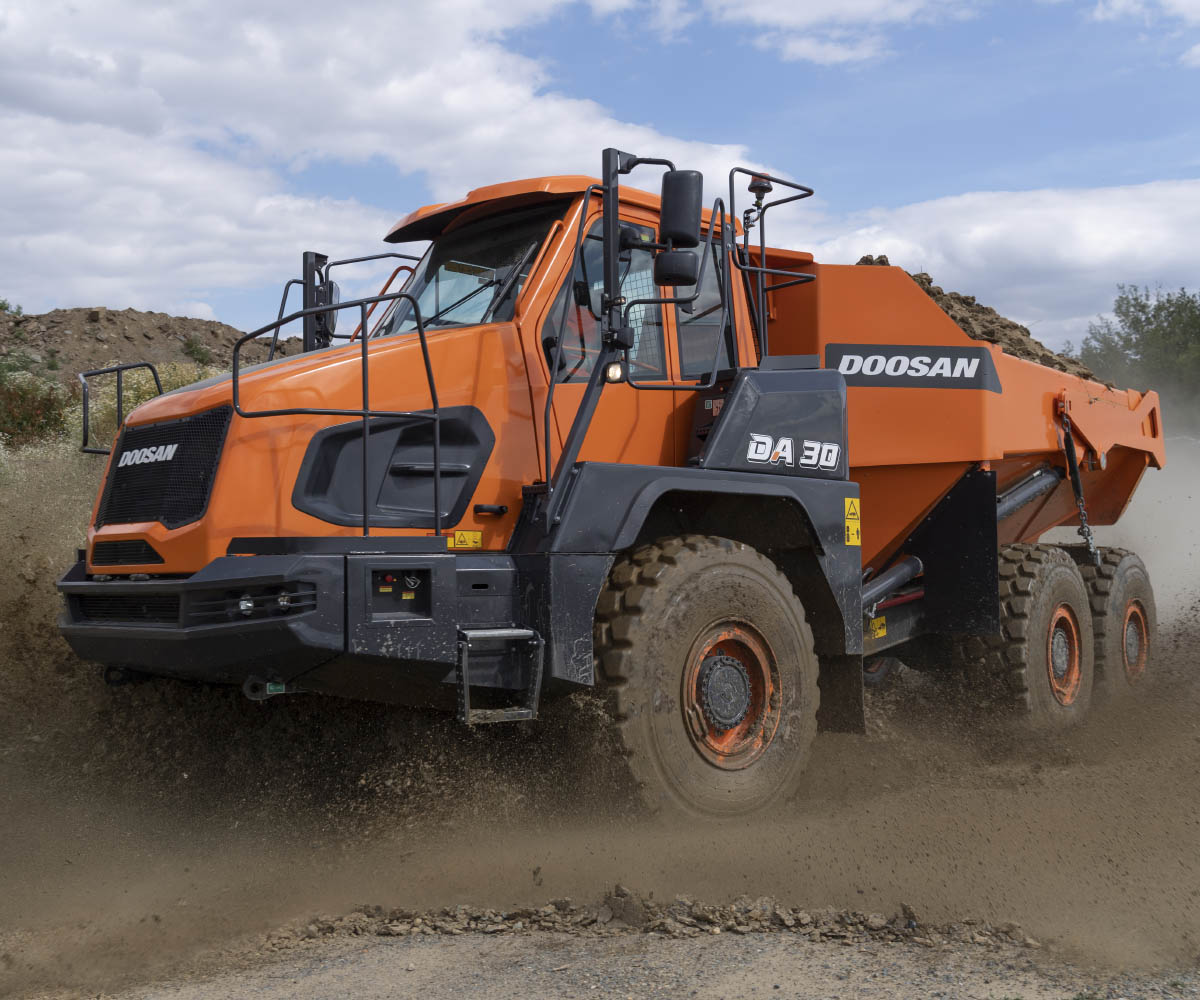 Doosan DA40-5 Articulated Dump Truck
Ideal for construction sites as well as mining and quarrying applications, the Doosan DA40-5 offers excellent driving stability, equal weight distribution and superior traction along with additional load capacity, superior power and better productivity.
Features include:
Its flexible and agile undercarriage ensures all six wheels have permanent ground contact, so you can achieve extreme performance in off-road conditions. And, with a high horse power per ton of loaded weight ratio and a diesel engine that provides a class-leading power-to-weight ratio to maintain momentum and increase productivity.
Two lateral limited-slip differentials, one front and one rear, deliver top traction, while a free-swinging rear tandem gear-driven bogie delivers added stability. A single driveline uses one longitudinal differential delivering a 50% split between the front and rear drivetrains.
Inside the cab, you'll find comfort everywhere you look. An air suspension seat, fully automatic climate control, and a rubber suspension cab mounting provide excellent comfort. Controls are placed at your finger tips for easy operation, while a multi-function monitor displays critical machine information.
A scissor-type tailgate is standard.
Click to read the Doosan DA40 Articulated Dump Truck Brochure.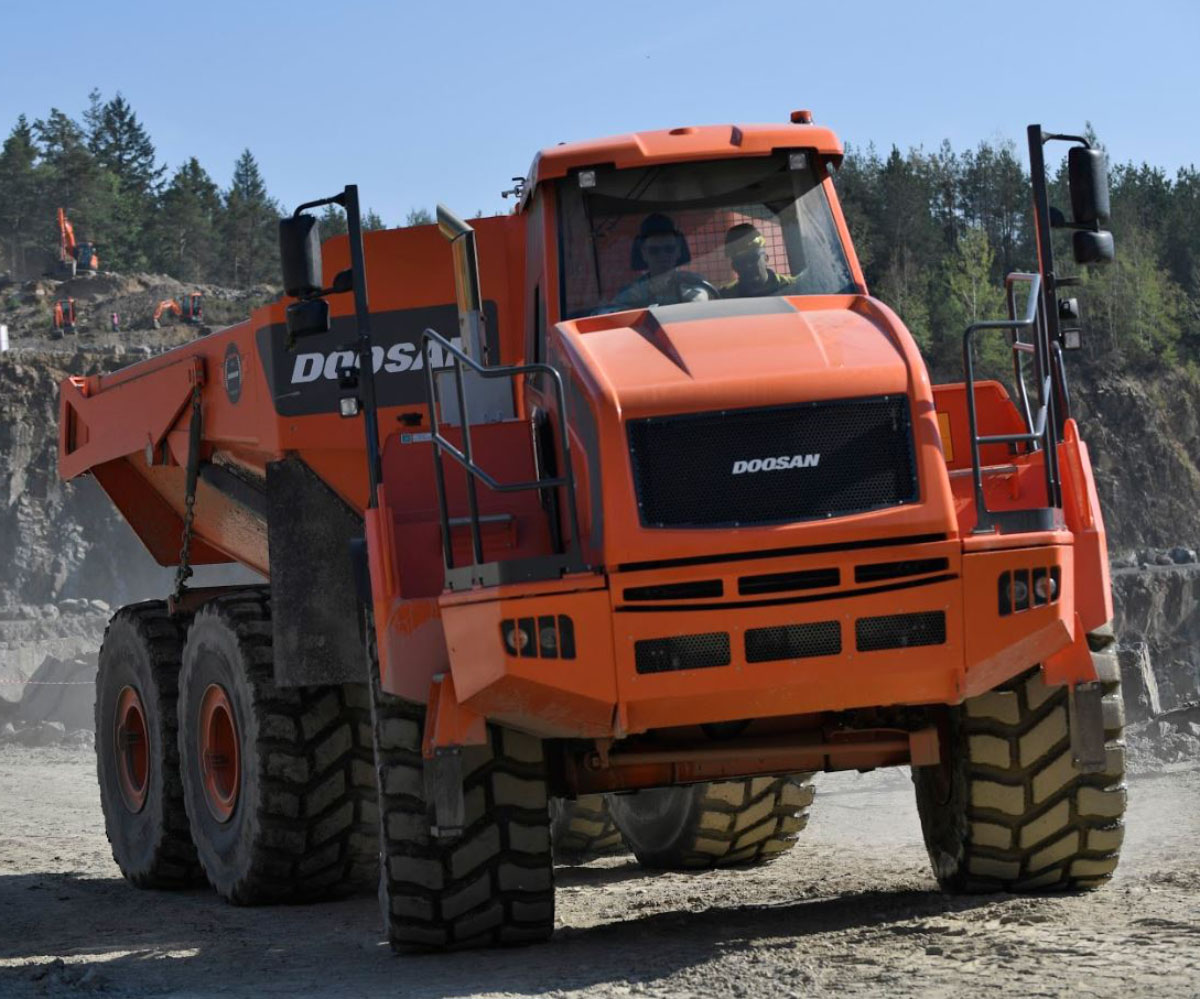 LATEST OFFERS FROM DOOSAN
Click here to learn more about the latest offers available on Doosan articulated dump trucks.
Terms and conditions apply.  Business users only.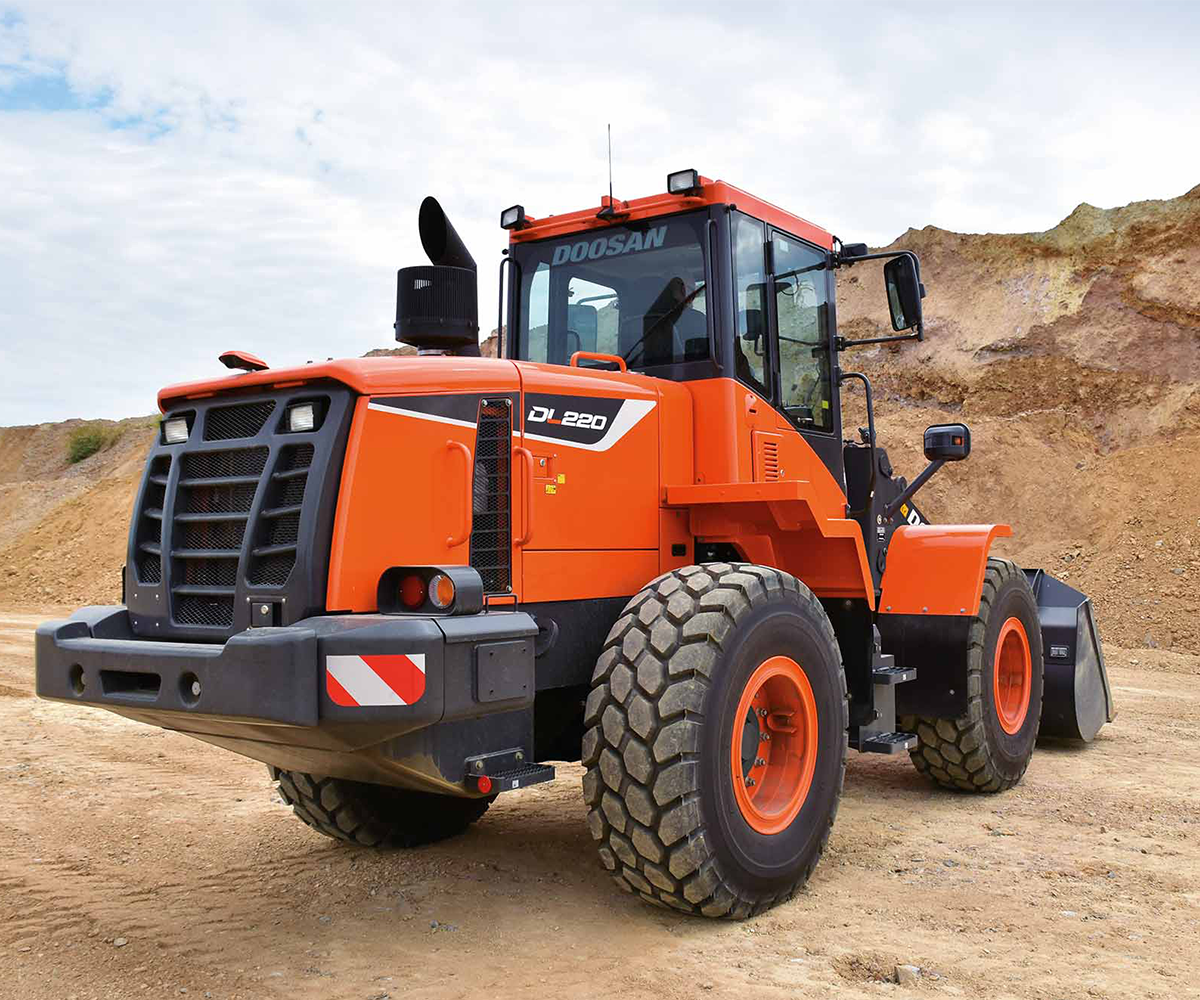 For more information
Contact your local Lloyd Ltd branch to learn more about our articulated dump truck range or to book a demo.