Lloyd Ltd represents two of the world's leading brands for forklifts in Manitou and Yale.  Offering a wide range of solutions, be it for logistics or transportation purposes, and include a variety of fuel types and capacities, our selection of forklifts is second to none.  With flexible options from hire to finance, Lloyd Ltd can help you find the funding solutions which is most suitable for your business.
Below are just some of the types of forklift we can provide:
Manitou MI Range
Manitou M26 – M50 All-Terrain Forklifts
Manitou MSI Range
Manitou EMA II Electric Articulated Forklifts
Manitou ME Electric Forklift Trucks
Yale MX Series Forklifts
Yale VX Series Forklifts
Yale Electric Forklifts
Yale MR Series Reach Trucks
Manitou MI Range
Perfectly representing Manitou's involvement in industrial markets, the MI trucks have been designed around user expectations such as simplicity, comfort and reliability, and efficiency, all at the lowest operational cost.
Key features of the range:
Capacities from 1.5 to 10 tonnes.
Turn radius from 1,985 mm.
Lift heights up to 6.5m.
Yanmar Premium Diesel and Nissan LPG engines for MI 1.5 to 3.0 ton models.
Monobloc chassis.
Click to read the Manitou MI Forklift Range Brochure.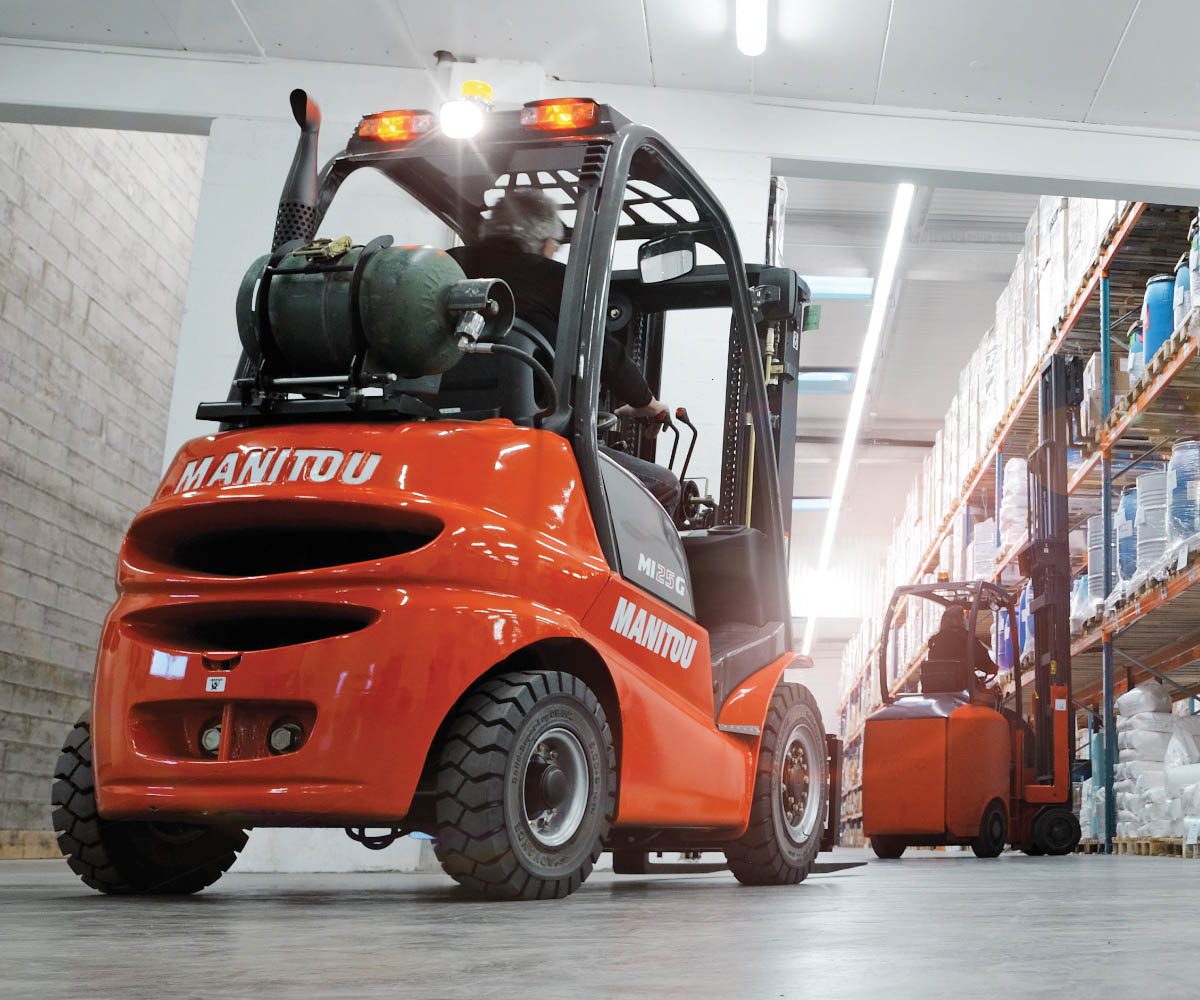 Manitou M26 – M50 All-Terrain Forklifts
These models have been specifically designed to handle tougher terrain and more challenging conditions. Ideal for use in the timber, mining or construction sectors, this range brings together all of Manitou's 60 years of experience into a robust and practical design.
With maximum capacity ranging from 2,600 – 5,000kg, lift heights from 3.7m to 7m and varying ground clearance heights for different terrain, these machines are a versatile solution to complex materials-handling problems.
The added benefits of excellent in-cab visibility and comfort, a tight turning radius and a selection of tyres for optimal performance mean that this range of four-wheel-drive machines can do what you need whenever or wherever you need them.
Click to read the Manitou M26-M50 Masted Forklift Brochure.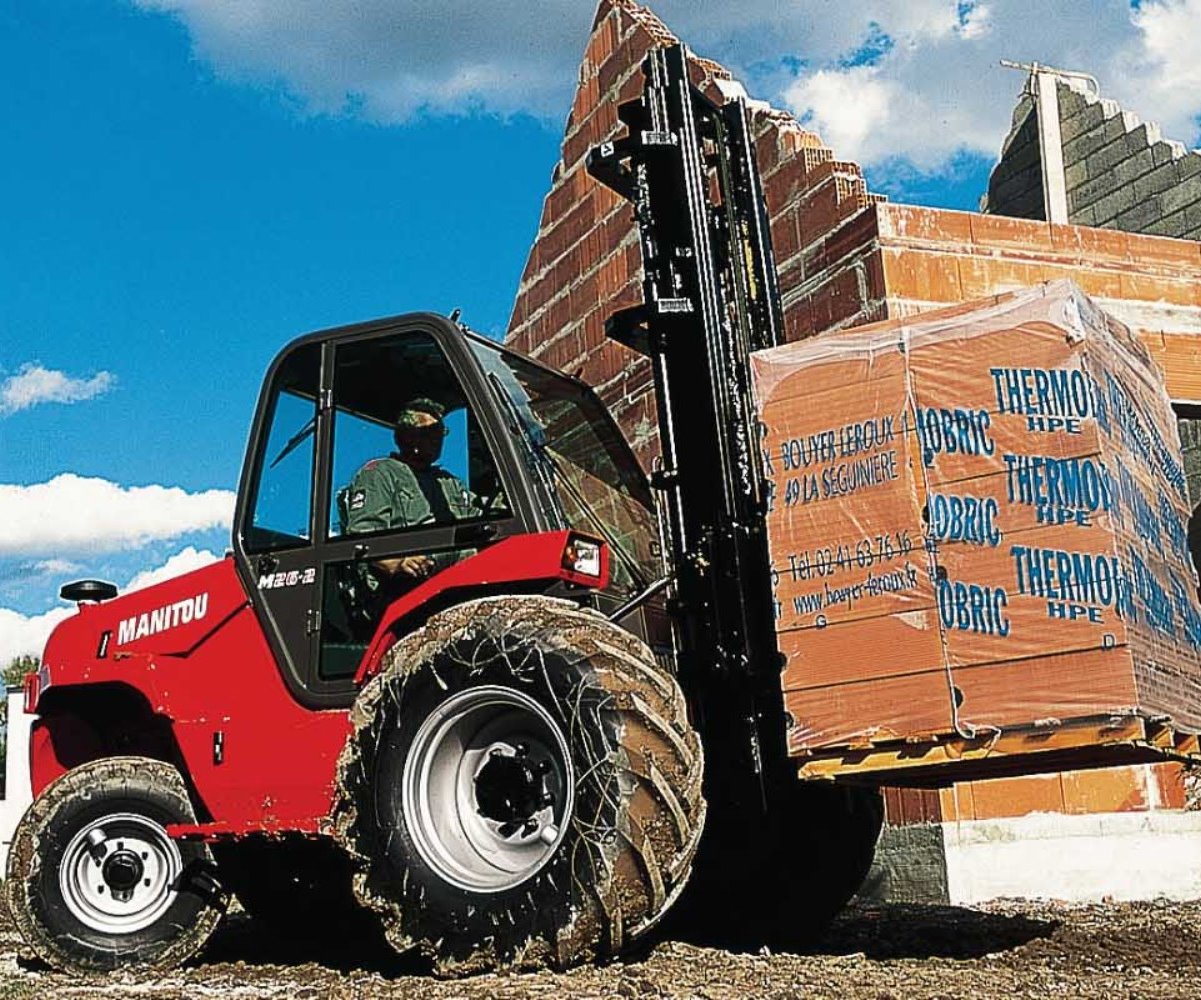 Manitou MSI Range
Having pioneered this type of machine, the Manitou MSI range has been designed to meet specific handling requirements, from uneven terrain, long or heavy loads, delivering high permanent power output and precision for accurate operation and handling.
With a capacity ranging from 2 to 5 tonnes, MSI models are the ideal solution in terms of total cost of ownership compared to a standard industrial forklift if you are operating in a difficult environment or with specific requirements.  The large front wheels, combined with hydrostatic transmission, provide for a smooth operation. These models can easily operate in warehouses or outdoor storage areas.
Click to read the Manitou MSI Forklift Range Brochure.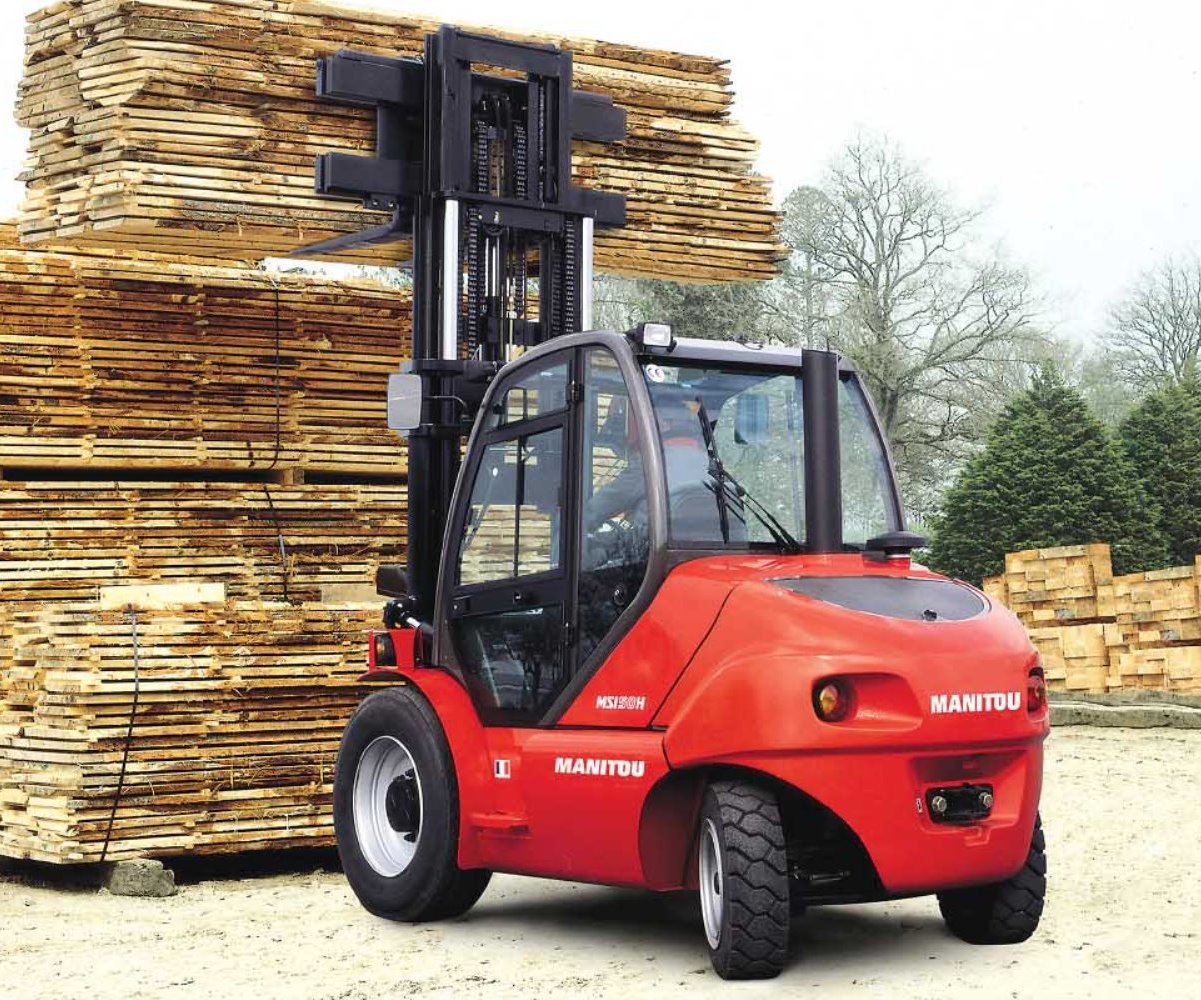 Manitou EMA II Electric Articulated Forklifts
The EMA II range comprises electric articulated forklifts designed to be a practical solution to your storage problems.
With its compact frame and 220° pivoting mast, you can easily get around aisles measuring 1.8m in width and can also increase storage capacity in terms of both height and width. This versatile machine also features generous ground clearance and a floating front axle so you can use it both indoors and outdoors for unloading lorries and limiting the amount of costly double-handling operations.
1,300kg compact to 2,500kg heavy-duty capacities available with a maximum lift height of 12 metres.
Click to read the Manitou EMA II Forklift Brochure.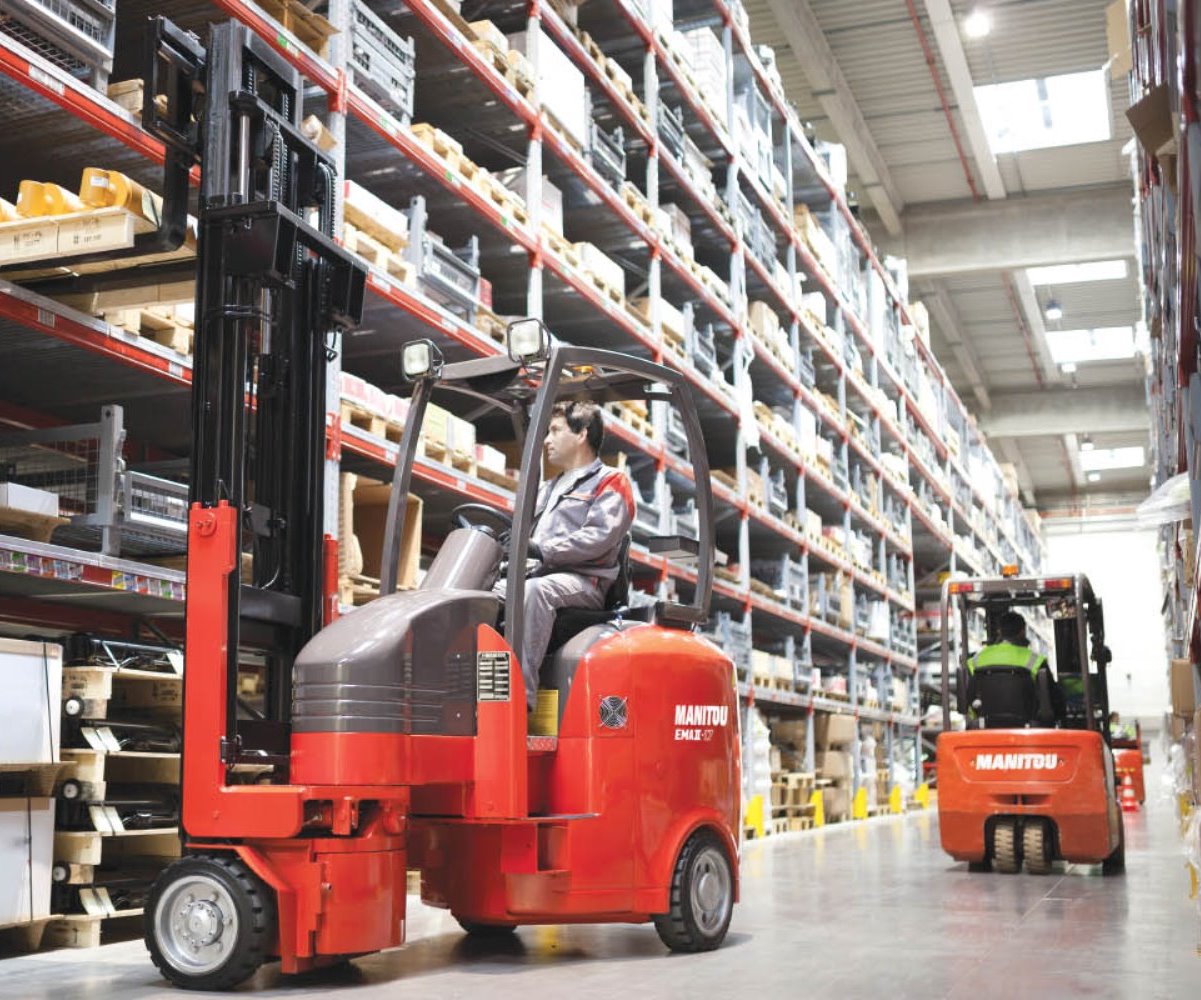 Manitou ME Electric Forklift Trucks
Easy to use and maintain, as well as being reliable in all situations, the Manitou ME range of electric-powered forklifts comprises 14 models across different configurations:
3 wheels 24 volts
3 wheels 48 volts
4 wheels 48 volts
4 wheels 80 volts
The range also offers several mast options, enabling you to reach heights of up to 6.5 m.
Click to read the Manitou ME Electric Forklift Brochure.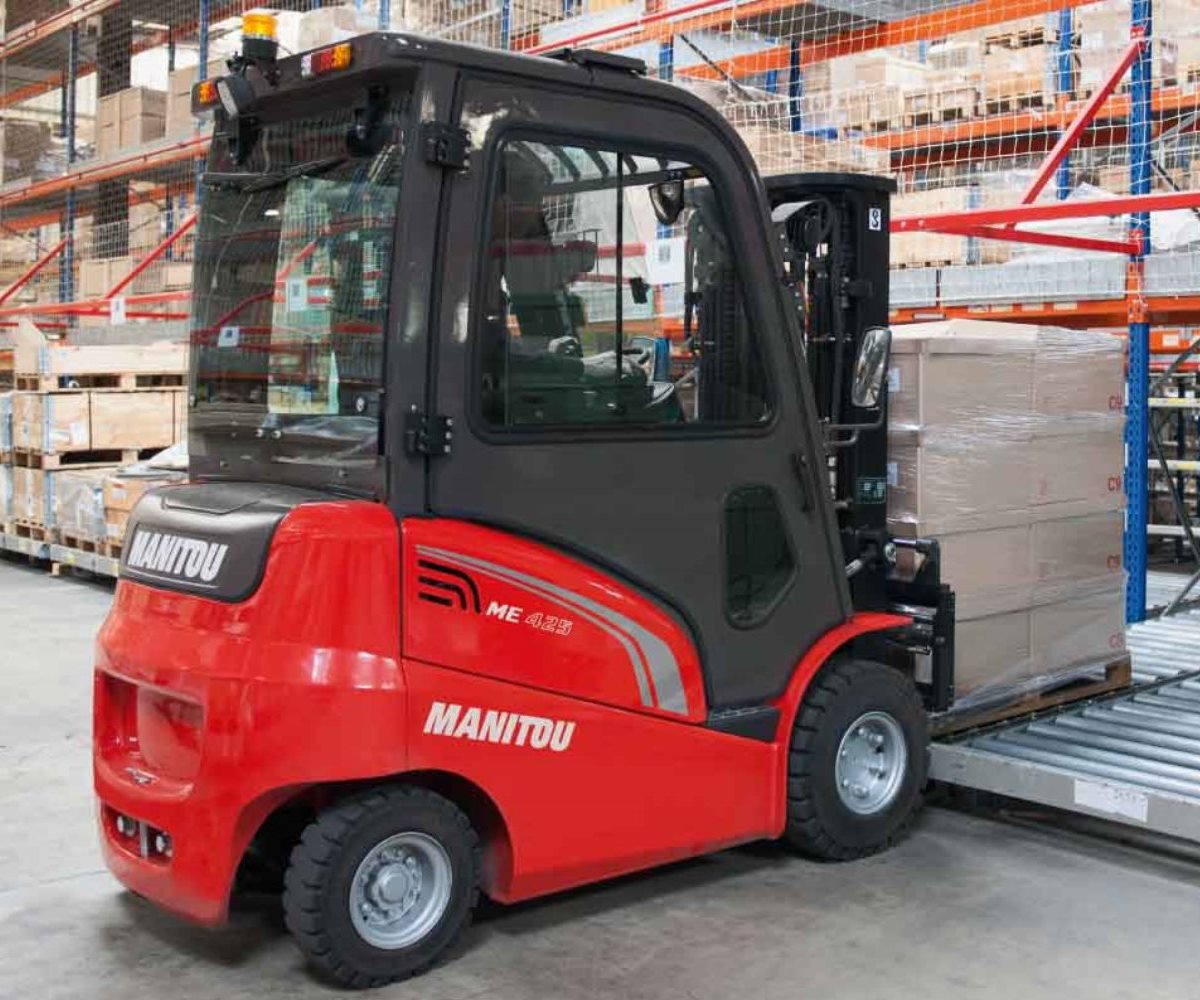 Yale MX Series Forklifts
From 2,000 to 3,000kg capacities, the Yale MX range of forklift trucks is engineered to provide reliable, long-lasting performance and durability, coming with variety of engine options – diesel, LPG, dual fuel – and a low cost of ownership.
Standard features include:
Substantial operator visibility through standard mast
Hydraulic levers offering accurate control of forks and mast
Continuous Stability Enhancement (CSE) allows travel with confidence and higher productivity
Easy operator access
Yanmar and PSI engines
Isolated powertrain reducing noise and vibrations
Click to read the Yale MX Series Brochure.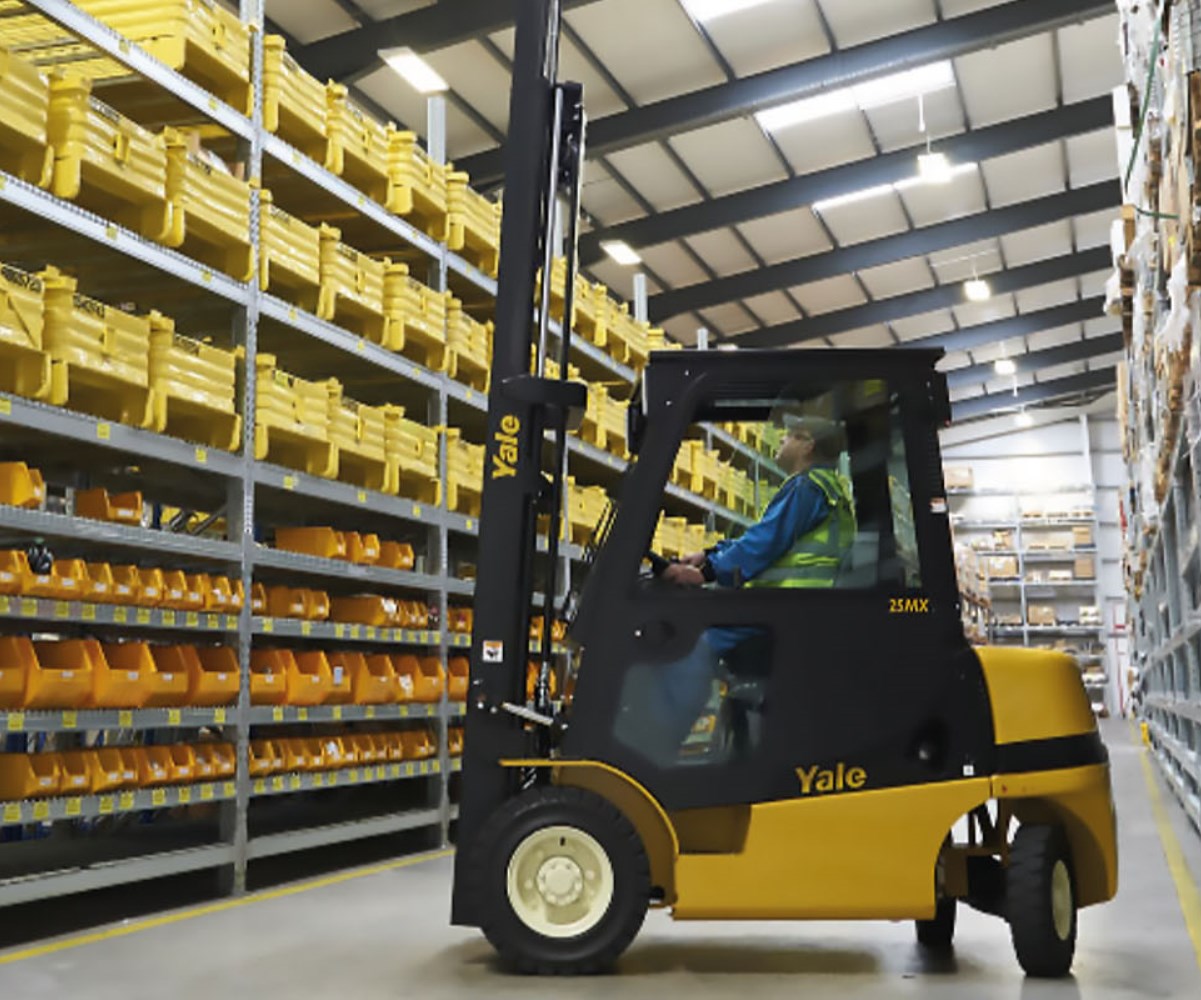 Yale VX Series Forklifts
From 2,000 to 3,500kg capacities, the Veracitor VX Series offers long service intervals, innovative technology to reduce brake and tyre wear, and outstanding engineering suited to medium and intensive
applications from logistics and distribution to industrial chemicals and large warehousing applications.
The VX range provides:
A feature-rich series of diesel and LPG forklifts.
High levels of productivity, ergonomics and dependability.
Efficient Yanmar and Kubota diesel engines. For example, the Yanmar 2.6L diesel engine consumes as little as 3.0 litres per hour.
Psi LPG option.
Lift heights from 3.3m to 6.5m.
Mast designed for maximum visibility.
Click to read the: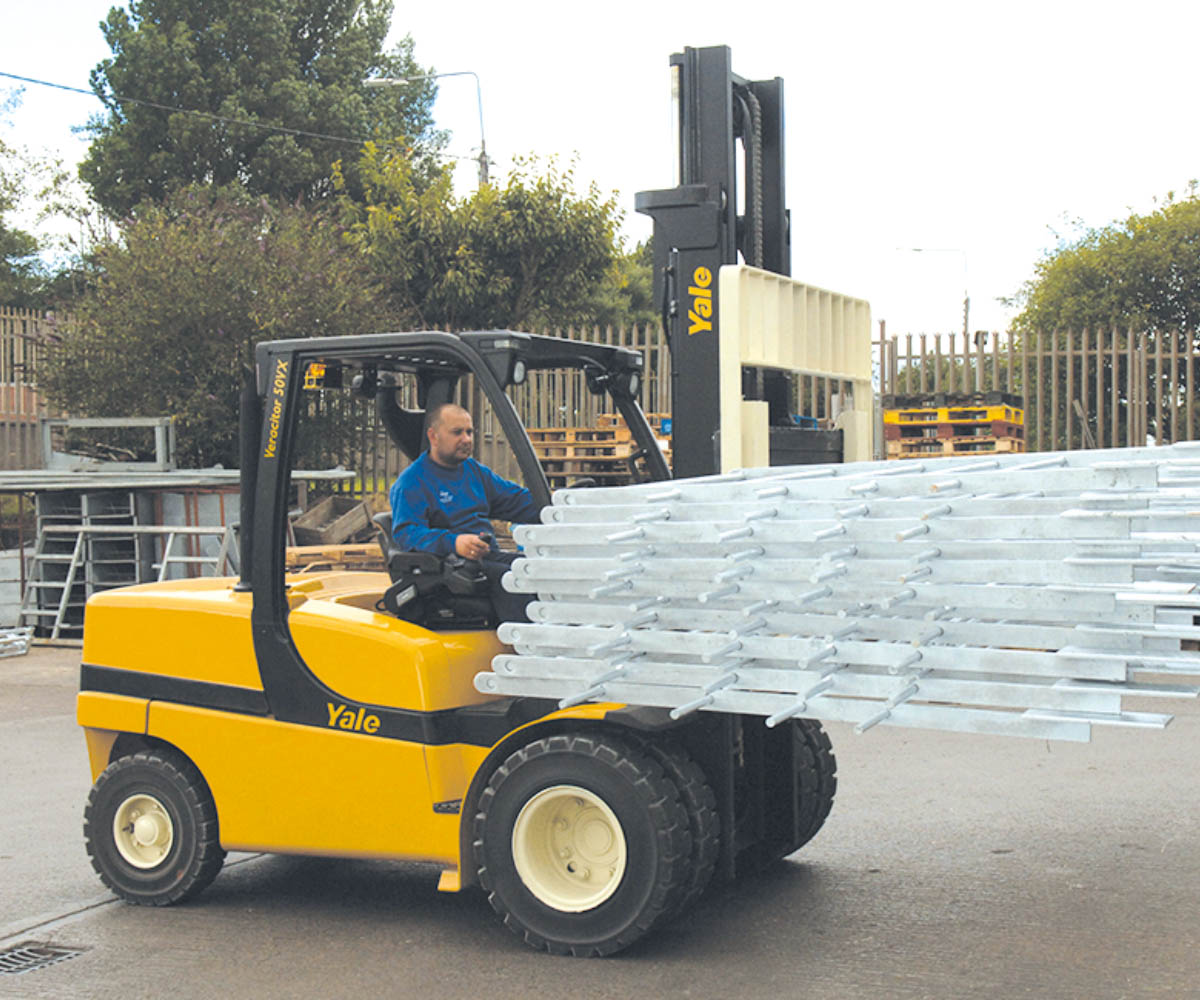 Yale Electric Forklifts
Choosing the right forklift truck for your business is a vitally important decision. Get the right equipment in place and you'll get the right results in terms of increased productivity and a much greater return on your investment.  Available in both 3- and 4-wheel versions.
Standard features across the range:
One of the lowest WBV (whole body vibration) seats in the industry and in its class helping to reduce back strain and operator fatigue.
ECO-eLo and HiP performance settings.
Heads-up display provides unobstructed view of truck status and error codes.
Accutouch mini-lever module and arm rest with height and length adjustment.
Ergonomic compartment for the smallest to tallest operator with generous floor space.
Low step height for easy operator 3-point access and egress.
Vehicle system module (VSM) controls all truck functions.
Yale e-Balance, the balance between performance and energy consumption.
YalestopTM automatically sets the control system so the park brake is always engaged whenever the truck is stationary.
Click to read the Yale Electric Lift Forklift Brochure.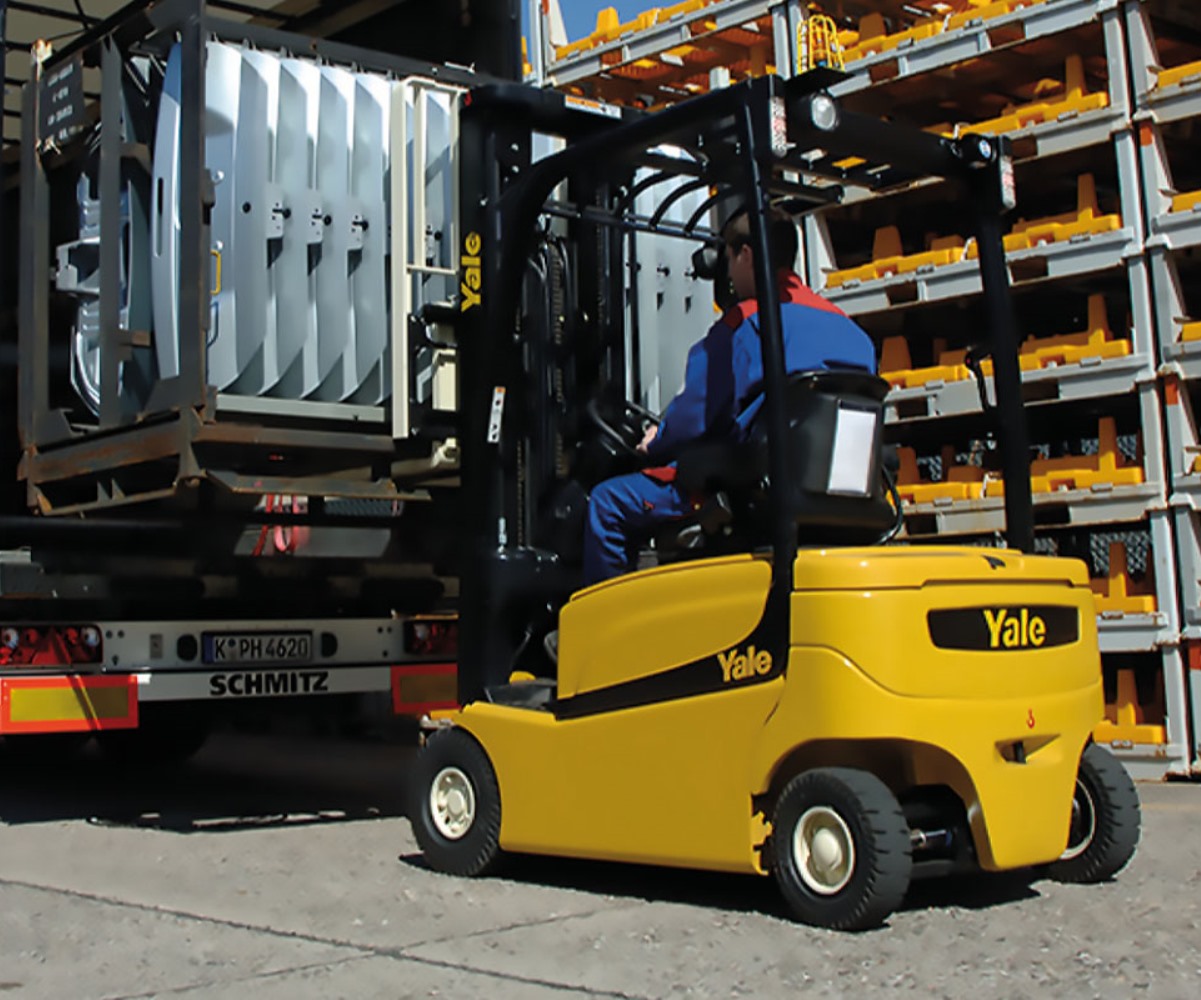 Yale MR Series Reach Trucks
The next level in reach truck productivity, the Yale MR series deliversm ore productivity with higher travel, lift and lower speeds and more comfort with unique ergonomic controls and enhanced visibility, as well as the ability to choose between 180° and 360° steering at the touch of a button.
You have the choice of seven models in capacities from 1,400kg to 2,500kg and lift heights up to 12.5m, plus three chassis available to match your application, not to mention an increase in its travel speed to 14km/h and the mast speed to 0.8 metres per second with masts lifting up to 12.5m.
Click to read the Yale MR Reach Trucks Brochure.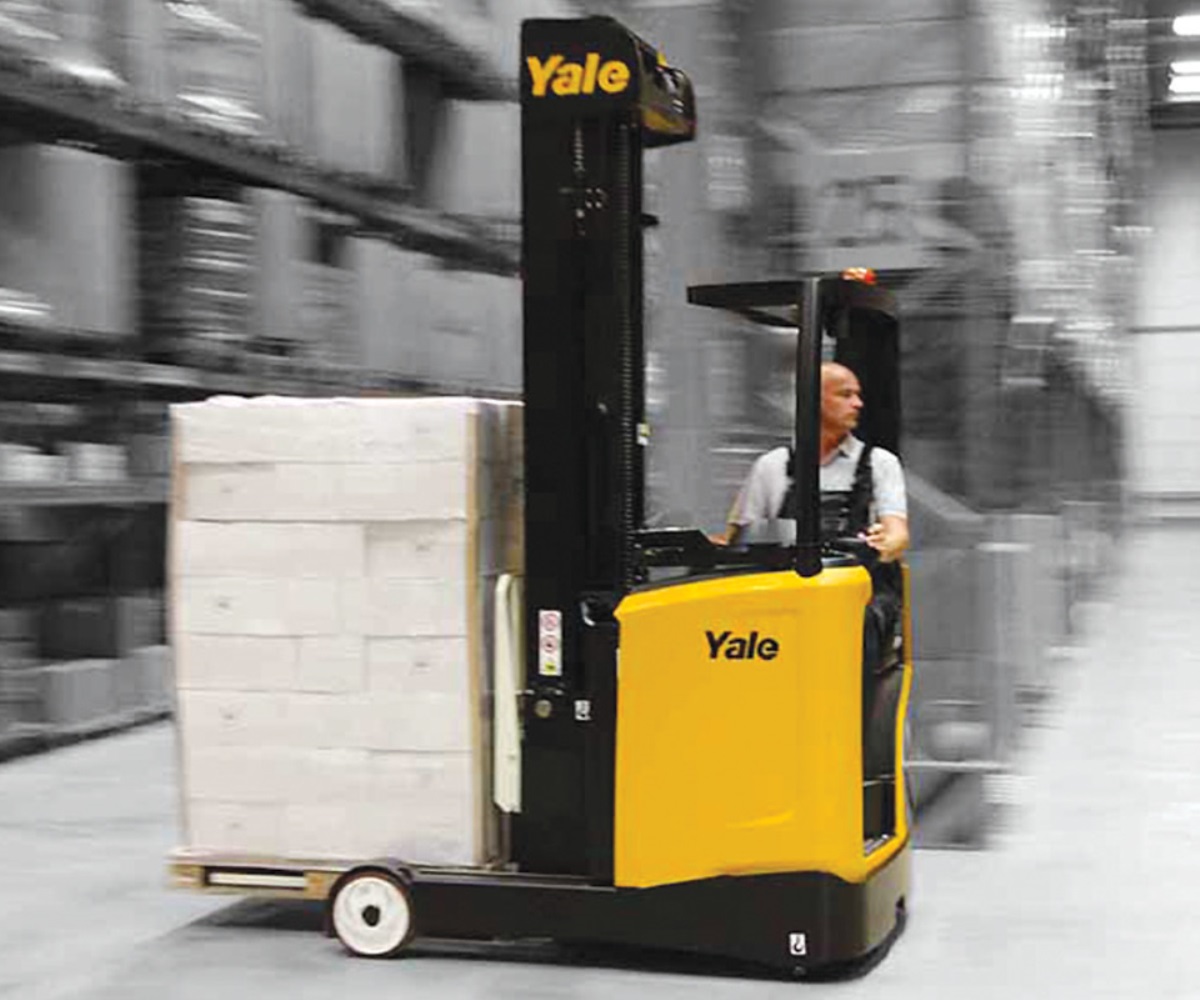 For more information
Contact your local Lloyd Ltd branch to learn more about our forklift range or to book a demo.