Blue Chip Contracting's "Lady P" Tractor Takes Pride of Place on Lloyd Ltd Border Union Show Stand
Local New Holland dealer Lloyd Ltd is used to working closely with their customers to give them the machinery they need, but this new "Lady P" project with Blue Chip Contracting is definitely a first.  This agricultural contracting, forestry/firewood production and biomass business is owned by Jamie Branch who is a valued customer of Lloyd Ltd Kelso, having purchased several blue tractors from the company over the years.   The idea to turn the blue tractor pink was all down to Jamie's sister Harriet and it is clear that he could not be more proud of her fundraising initiative.
"Having been brought up on a farm, Harriet and I have always had an interest in the machinery and the farmer, the late Sandy Reavley, used to take us with him to check stock or go on the combine," said Jamie.  "I started my contracting business four years ago, acquiring a New Holland T7.315, and I've since added various pieces of machinery to the business.  Harriet has been helping with the driving, which is a challenge she relishes, being a woman in a man's industry."
Jamie added, "As a family we have also all been affected by cancer in one way or another and the fact that "The Race For Life" logos are also pink Harriet thought about the pink tractor being put to good use to promote this vital research, hence "Lady P".  We are so grateful to all the local people and businesses who have supported us and who are donating their time and services free of charge to help with the build of the tractor which was launched at this year's Border Union Show where we hung pink buckets on the link arms of the tractor as donation boxes and raised almost £250.  Thank you to everyone who has helped us get here."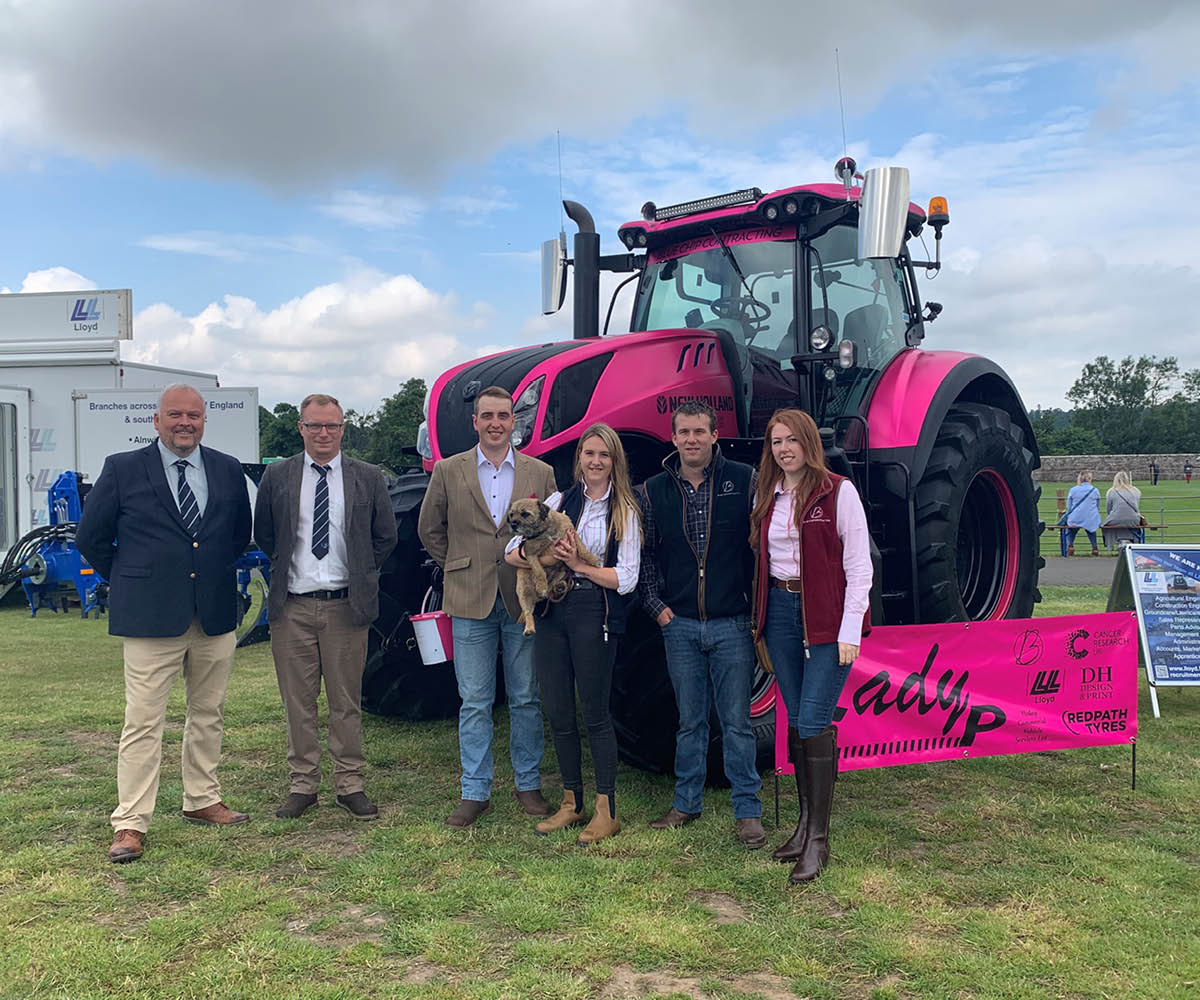 Stewart Crighton, Lloyd Ltd Kelso's Dealer Principal, commented, "The initiative that Harriet and her family have taken to make their new T7.290 tractor really stand out and drive their fundraising activities is superb.  We are delighted to be able to support them in their efforts and were so proud to have "Lady P" in pride of place on our stand at the Show.  I have no doubt that they will make a great success of their fundraising and we at Lloyd Ltd look forward to helping them however we can."
To donate to Cancer Research UK, visit https:/www.cancerresearchuk.org
From left to right: Stewart Crighton (Lloyd Ltd Kelso Dealer Principal), Stuart Dodsworth (Lloyd Ltd Kelso Agricultural Sales), James Booth, Harriet Branch, Jamie Branch, Michelle Graham and Bug the Border Terrier.