LEADING THE FIELD AT LLOYD LTD
From its beginnings in 1964, Lloyd Ltd has always been a local family-run business and is now in its third generation.  2023 will see that third generation – George Lloyd – take full charge of the company as Managing Director, while Barry Lloyd, son of founder Ralph Lloyd, will move into a more consultative role as Chief Executive.  Both George and Barry have made a point of experiencing a range of roles and responsibilities within the business, bringing a wealth of knowledge from across the company to move Lloyd Ltd forward.  These top-level role changes have opened up the Dealer Principal positions at four branches but there will be familiar faces at the top table in the New Year.
Pictured from left to right: David Greedy, John Marston, Lewis Barr and Jonathan Bell.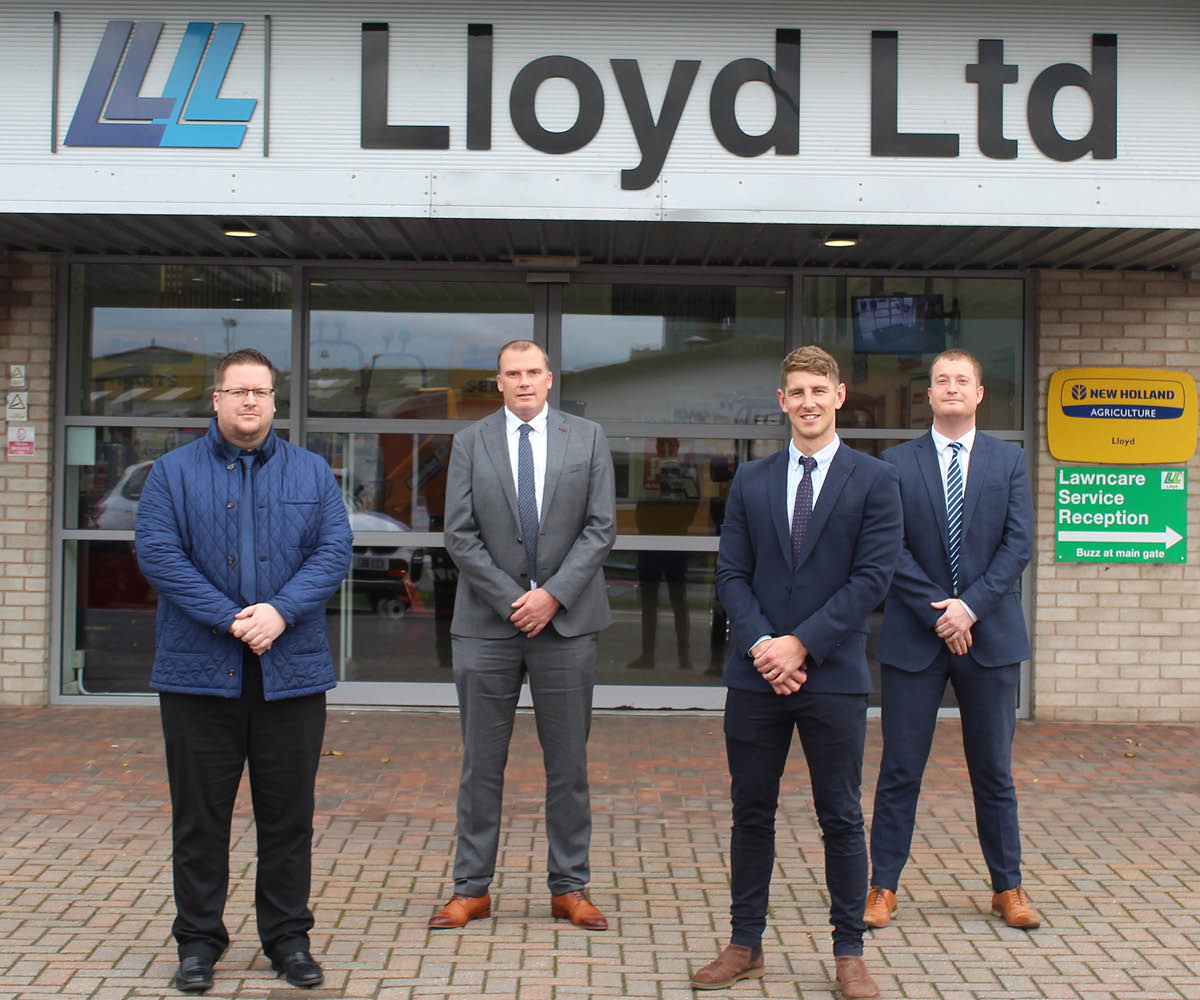 Becoming Managing Director full-time means that George will no longer run Lloyd Ltd Newcastle in tandem with that role, handing over the Dealer Principal position to Lewis Barr who has spent seven years as an Agricultural Sales Specialist there.  George commented, "Lewis' knowledge and experience will stand him in good stead to run the Newcastle branch.  He has developed strong connections with his customers and will build on those across all areas of our business to provide the support our customers and staff require and expect."
Barry has been running the Carlisle branch for the past 12 months, but, thanks to his change of role, the Dealer Principal position there will be taken on by Jonathan Bell, who is currently heading up the Penrith branch.  John Marston, Agricultural Sales Specialist at Lloyd Ltd Carlisle, will subsequently become Dealer Principal at Penrith.
"We have always strived to promote from within", commented Barry.  "Our staff are our greatest asset so we believe in giving them the opportunity to develop and grow with the business.  Jonathan Bell has proved to be a highly effective Dealer Principal at Penrith over the past two years and, with his move to lead the Carlisle branch, we needed someone equally capable to take over his seat at Penrith.  John Marston has been an excellent Agricultural Sales Specialist for us for the past 17 years and it is a natural progression for him to take on a more senior role."
The final change is at Lloyd Ltd Bishop Auckland where the Dealer Principal role became available due to retirement.  The branch's current Parts Manager David Greedy is stepping up to lead the branch.  George noted, "David has been with the business for over 11 years, firstly as Parts Manager at Construction Plant and then taking on the branch position when CP moved to our new Bishop Auckland premises. David's leadership experience and vast construction machinery knowledge will help drive the depot forward in the future".
George added, "We are excited by what the future has to offer for all our new Dealer Principals and for the business too.  It is extremely rewarding to see our staff grow into their roles and want to take on more responsibility.  Barry and I have no doubt that they will rise to the challenge and, with the support of their teams and the wider business, continue Lloyd Ltd's success."