Low fuel costs & high quality mix make KEENAN first choice
Having recently taken delivery of his sixth KEENAN diet feeder – this is his third 14m3 MechFiber 320 machine – it's safe to say that Robert Butterfield of B Butterfield & Son near Burton-in-Kendal is impressed by what they can do.  His dairy farm has 750 head of cattle so with four loads of feed per day it is essential that he uses a machine which can deliver feed efficiently and at a good quality to keep his cattle healthy and his costs low.
"I go with KEENAN because of their simplicity.  It's a simplistic machine, but it is very efficient with low fuel usage and produces a nice, fluffy, open mix", commented Mr Butterfield.  "I've bought six of them because I've found what works well for me.  I've now started changing the machines every five years so I can keep the running costs as low as possible.  They keep their value well so it's not expensive to upgrade to a newer one to keep my costs down." Mr Butterfield added, "The design of the machine is so efficient. We run it on a 90hp tractor and only fill it up with fuel once a fortnight.  I've tried competitor machines and fuel consumption seemed considerably higher."
However, it's not just about cost savings, but also a matter of feed quality for Mr Butterfield: "The presentation of the diet is excellent due to the quality of the mix.  To be honest, I'd change the machine every two years if I had to to get these results.  It would be worth it."
KEENAN have been at the forefront of developing innovative feed solutions for more than 35 years and have created a range which covers models from vertical augers to self-propelled machines, as well as offering feed advice and support if required to ensure the optimum nutritional mix for each farm. The 14m3 MechFiber320 Mr Butterfield purchased is one of their most popular diet feeders as its low horsepower requirement, high level of versatility and ability to feed into troughs up to 1,181mm (46.5") high make it ideal for medium-sized farms where a reliable diet feeder that will deliver day in day out is essential.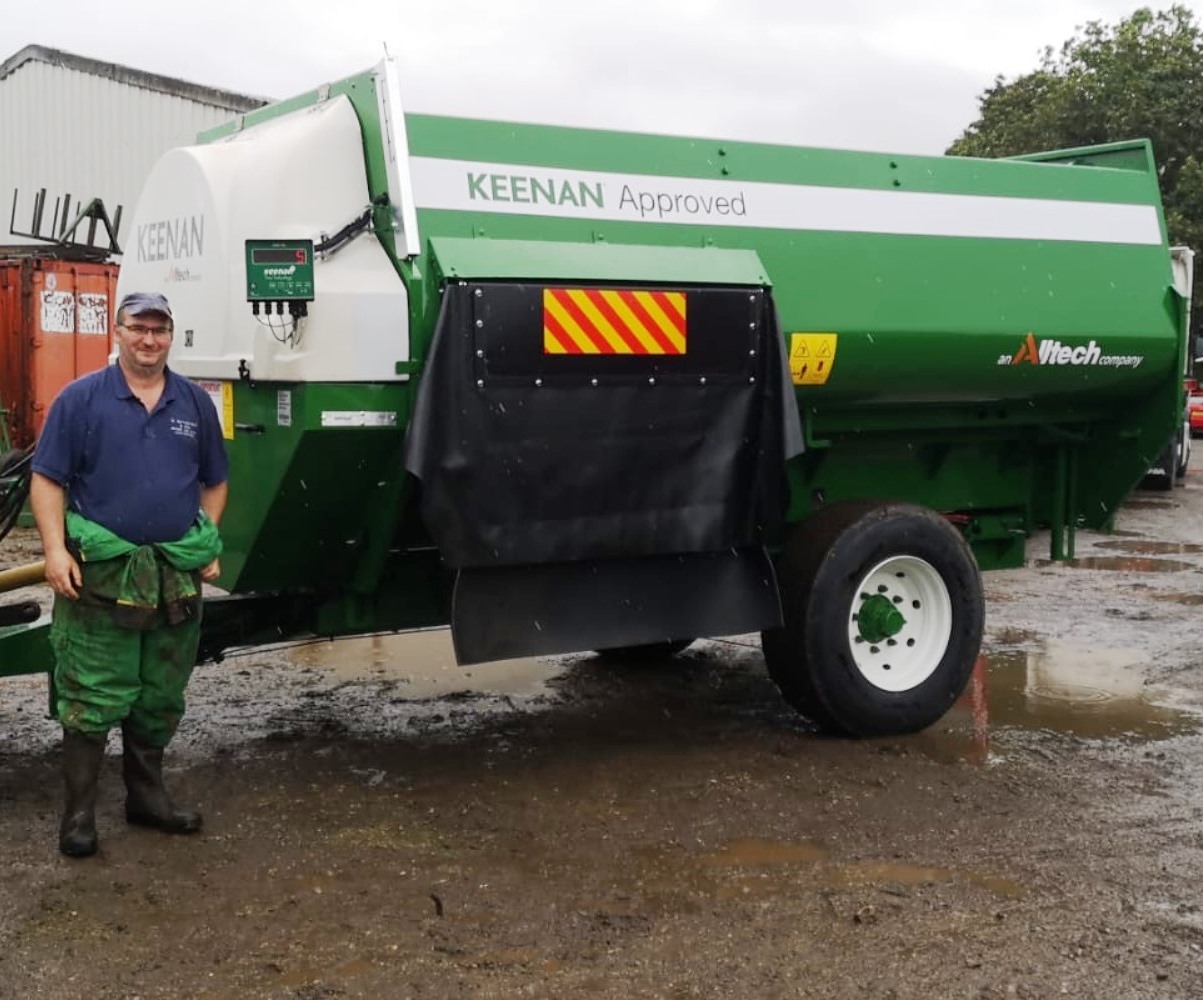 As with all machinery, it is also important to work with a dealer who understands what their customers need and why, so Mr Butterfield was pleased to continue his long-standing relationship with Lloyd Ltd.  "I had a very good sales experience", he said.  "We knew what we wanted so we went to George Lowis at Lloyd Ltd Penrith and he sorted it for us."
KEENAN and Lloyd Ltd have successfully renewed their partnership which started in the 1990s and, when their vertical range was launched, it became apparent that combining both companies' local knowledge and expertise would offer farmers the best of both worlds. KEENAN's focus is on developing state-of-the-art technology to maximise feeding efficiency, backed up with a 24/7 mechanical support service so customers can have improved results as well as peace of mind.  Thanks to this combination it's clear that KEENAN and Lloyd Ltd provide the perfect mix for Mr Butterfield.
To learn more about the KEENAN range, click here.