LLOYD LTD UNIMOG TECHNICIAN BEN CHRISTIE ACHIEVES IMPRESSIVE QUALIFICATIONS
Today Lloyd Ltd's Mercedes-Benz Unimog Technician Ben Christie received his certificates for his recently-achieved Unimog training qualifications from Gareth Davies, the National Unimog Aftersales Manager for Mercedes-Benz Trucks UK Limited.
The three certificates cover two levels of Unimog accreditation.  The first – Unimog Maintenance Technician – is the initial step in the Unimog Technician's training programme, covering basic elements, and is achieved through a combination of face-to-face and online learning.  Ben passed the course some time ago despite the disruption due to COVID.
The second level comprises two elements. "Unimog System Technician Electronics" covers the electronic and hydraulic features of the Unimog while "Unimog System Technician Drivetrain" includes the engine, gearbox and axles.  The complexity of the Unimog means that these are highly in-depth courses to complete, taking time away from Ben's day-to-day activities to ensure they are passed successfully.  Doing so means that Ben is now one of only three Unimog Technicians in the UK who has achieved this level of technical training, with the only level remaining being "Diagnostic Technician" which is the highest achievable accreditation and which Ben is scheduled to undertake in 2024.
Gareth commented, "It is great to see Ben get to this level in a comparatively short time, which is a reflection of Lloyd Ltd's commitment to Ben and to Unimog.  Ben has really got hold of the Unimog activities at Lloyd Ltd and made them his own so it is really satisfying to see him achieve this exceptional accreditation.  Much of the training was carried out in Germany where Unimog is based, so it took a great deal of dedication on Ben's part to go through the courses.  This is an excellent result for him, for Lloyd Ltd and for their many Unimog customers who will benefit from his expertise."
Photo from left to right: Lewis Barr, Gareth Davies, Ben Christie and Sean Trotter.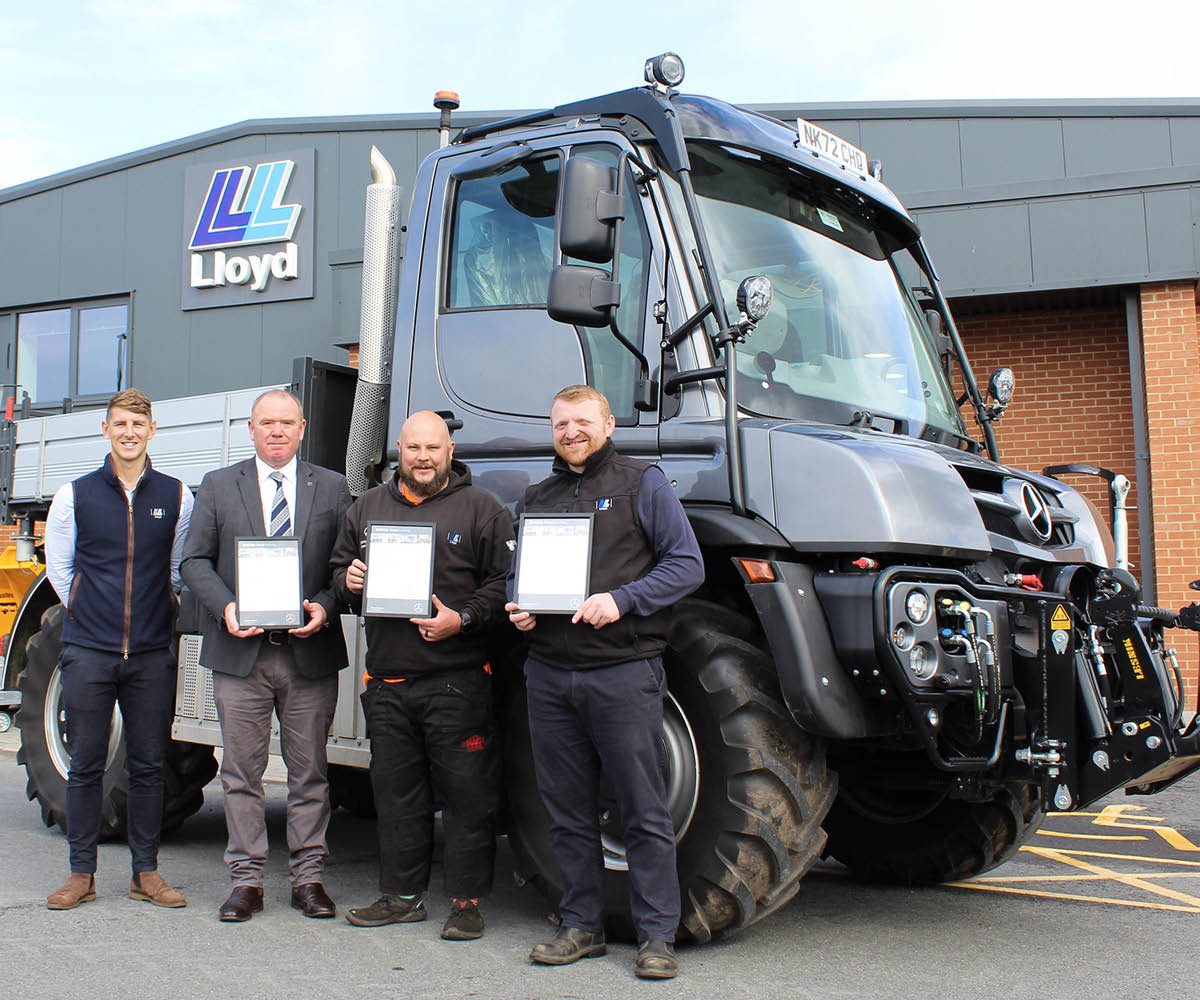 Sean Trotter, Lloyd Ltd's Service Manager, added, "Unimog is a highly technical product and our customers are very knowledgeable too so it is important to have Ben to provide the highest standard of support both to our Sales Specialist Simon Holmes prior to sale and to our customers throughout the ownership of their Unimog.  He has been incredibly dedicated to building his skills and experience and these qualifications show how far he has come.  Well done, Ben!"
It is this partnership between Ben and Simon which has been instrumental in delivering the impressive growth in Unimog sales for Lloyd Ltd over the past four years.  Simon observed, "Ben and I have worked closely together on both demonstrations and aftersales support and he has built strong relationships with our customers.  They value the knowledge he has and his enthusiastic approach, and these accreditations are another step to showing how dedicated he is to the Unimog brand.  Thank you to Ben for all your hard work and support.".
"We are very proud of what Ben has achieved", added Lewis Barr, Dealer Principal at Lloyd Ltd Newcastle where Ben is based.  "Unimog is an important part of our operations and our customers value the unique solution it brings to their own businesses.  Having Ben on hand to provide such valuable support and skill has really helped us to grow our Unimog sales and it is going from strength to strength as Ben continues to develop his expertise."
Ben is rightly proud of his achievements too.  "When I started working on Unimogs four years ago, I hadn't fully appreciated the level of complexity they require, but thanks to the training from Mercedes-Benz, the support of my colleagues at Lloyd Ltd, and the variety of experiences I have had with our customers, I have really enjoyed learning more about how they work and how our customers can get the most from them.  Achieving these qualifications has taken a lot of time and effort, which has been worthwhile to enable me to support our customers to the highest standards.  I am looking forward to doing the Diagnostic Technician qualification in the foreseeable future so that I can move my expertise onto the next level.  Thank you to Lloyd Ltd and to Unimog for supporting me throughout."